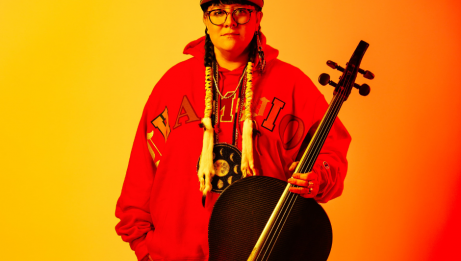 Curated by Olivia C. Davies, Matriarchs Uprising is a unique festival of exchange and sharing through dance and performances, workshops and conversation. The festival creates a platform for Indigenous women who are nurturing the art of Contemporary Indigenous dance and storytelling, while holding space for past, present and future.
Three curated mixed programs will be presented April 13-15. Special package pricing is available for all three shows!
Program C - April 15, 2023
The Cris Derksen Quartet
On April 15 Program C will present the work of The Cris Derksen Quartet, with special guests.To learn more about April 13 Program A, click here; and April 14 Program B, click here.
Music has the power to enliven our spirits and send our imaginations soaring to new heights. Dance offers a fluid container for the expression of this energy. In this special presentation with NAC Indigenous Theatre, Matriarchs Uprising is honoured to present The Cris Derksen Quartet, featuring internationally acclaimed Indigenous cellist, Cris Derksen. A household name to many Contemporary Indigenous choreographers, Derksen's Orchestral Pow Wow album can often be heard in rehearsal studios across Turtle Island, inspiring movement explorations that dive deep into the depths of the heart and pull forward blood memories living beneath the surface. Weaving together the vibrancy that exists within the moment of improvisation between live music and dance, we have invited our Matriarchs Uprising choreographers to bring their unique forms of storytelling through movement to the Quartet's live concert with a celebration of Indigenous culture, sound, and dance.
With special guest performances from the Contemporary Indigenous choreographers presented in Program A and B.