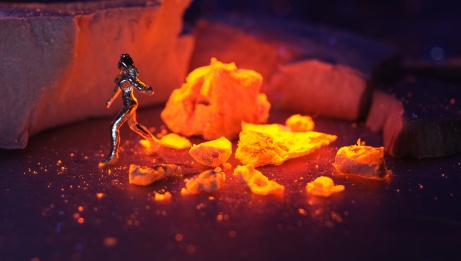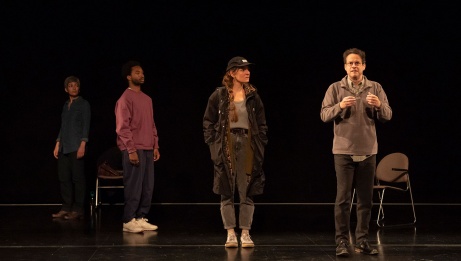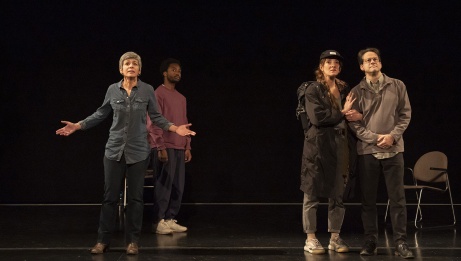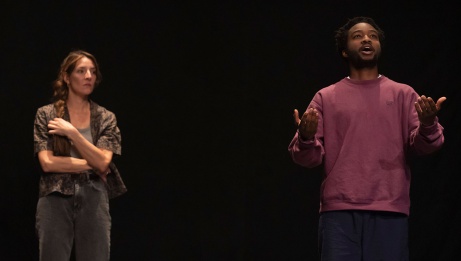 "The scream of the cornered animal "
In-person event

Français

≈ 1 hour and 35 minutes · No intermission
The expression is hackneyed, but it applies in this case: this is one powerful play! Four dynamic performers deliver a scathing indictment of the injustice and violence of the established order—as if in a single voice, a cry, that of intellectual and author Pierre Lefebvre. The prey opens its jaws, and for once, the swallower is swallowed.
An abyss separates the citizens from the leaders of this world. Why is it that, in what we call "democracy," dialogue with decision-makers seems fake? Under the sharp eye of director Benoît Vermeulen, four intrepid actors deliver this radioactive text, not without sometimes being affected themselves, to the point where bodies and voices become distorted. Speaking directly and incisively to "Monsieur," an all-purpose power figure, they denounce the brutality of a dehumanizing social system where people are obliged to remain silent in order to take their tiny place on the great wheel of commerce.
Both exhilarating in its directness and lacerating in its language, this show accomplishes the essential feat of rendering unto theatre the things are theatre's, namely, its power as a public forum, and thus its capacity to challenge Caesar by looking him straight in the eye.
Mani invites Pierre
On Wednesday November 22, starting at 6:30pm, Mani Soleymanlou with speak with Pierre Lefebvre in the NAC Salon, as part of the Grandes rencontres du Théâtre français. All are welcome!
*Presented in French with English surtitles on Friday November 24.