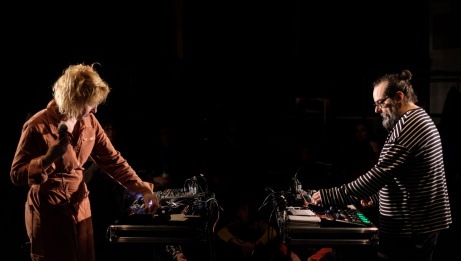 Music
Theatre
Youth
Children
Festival events
Français

≈ 25 minutes · No intermission
Connecting with the creators of Chansons pour le musée
Did you binge all three episodes of Chansons pour le musée? Or did you listen to them at half speed because you never wanted it to end? Maybe you've surprised yourself since then by putting your feelings into song? Whatever the case, you and your family are the perfect candidates for a special Zoom event with Karine Sauvé and Nicolas Letarte-Bersianik! The creators and musicians of this delightful theatre for the ears welcome you to a comfortable virtual space for a friendly and informal exchange. Musical brunch? Animated conversation? Improvised wireless performance? Anything can happen during this one-of-a-kind video call!
*** Karine Sauvé and Nicolas Letarte-Bersianik will meet three groups at once on Zoom. Reserve your spot!
Check out other time slots available:
25 minutes ● In French ● For all ages (under adult supervision) ● Free
The Terms and conditions of the event can be consulted here.